Department Spotlight: Meet David Tihanyi!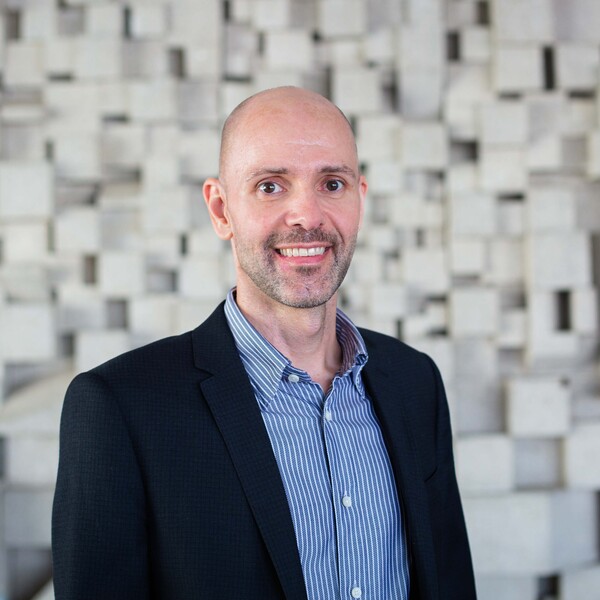 This year, Medical Imaging said farewell to some familiar faces and welcomed some new ones, including new MI Business Manager David Tihanyi. With an impressive and unique working experience behind him, David's path to Medical Imaging has been anything but typical.
After completing a Diploma in Business Marketing at Humber College, David decided to move to London, England to pursue opportunities overseas. Upon arrival, he found work in postgraduate medical and dental education, which started his long career in medical education. While across the pond, David completed a Masters in Business Administration (MBA) from London South Bank University. After 13 years of working in numerous medical education organizations in London, David headed back to Toronto to continue his work in medical education.
When he returned home, David joined the University of Toronto (U of T) as the Manager of the Office of Assessment and Evaluation in the Medical Doctorate (MD) program where he introduced numerous new procedures and programs. Some of those programs included implementing electronic organization and marking of the OSCE (Objective Structured Clinical Examination) and piloting Competency-Based Medical Education (CBME) on Elentra for clerkship medical students.
"I worked on quite a few exciting projects while in the Office of Assessment and Evaluation," David says. "We worked closely with our colleagues in postgrad, who also use CBME and Entrustable Professional Activities (EPAs), to learn how they implemented these programs at the postgrad level to ensure it was successfully implemented in the MD program."
After five years and numerous accomplishments in the MD program, David was looking to focus on other areas of his career, including different management positions within the University.
"I felt like I had accomplished quite a bit in the MD program and was starting to look for new opportunities to focus on my management skills," David recalls. "I wasn't unhappy in my role at the time, but I remember someone telling me once, 'Don't leave a job when you're unhappy, leave on a high note.' So when the opportunity for Business Manager in Medical Imaging came up, it felt like the right move."
Since starting his new role, David has been busy learning the ins and outs of managing the department, including finances, human resources, and technology and space planning. He's also focusing on finding areas of improvement for existing processes and jumping in to support his new team. When asked what he has liked most so far, David said the people.
"Everyone has been so welcoming and helpful since I started," he says. "Even though we have a fairly new team, there's still a lot of knowledge here and I've been learning so much from everyone. I never have to worry about asking too many questions."
Looking ahead, David is excited to see many areas of the department grow, including enhancing the communications and social media strategy, creating a cohesiveness across the team, and cross training/educating team members where possible to allow for additional support when needed. He also stresses the importance of fostering work/life balance and wellness on the team, something he's prioritizing with Dr. Michael Patlas, new Chair of Medical Imaging.
"It's important to me, and our new chair, that the team knows they can and should be ending their workday when it's time to sign off and to encourage healthy work/life balance," he explains. "Wellness in the workplace is extremely important and I want our team to know that work should be fun as well. I really want us to work collaboratively to create a positive work environment."
The Department of Medical Imaging is excited to see where David takes us as a valuable new Business Manager.
Welcome to the team, David!